Give someone the Hot Stone® experience!
If you would like to present your loved ones with an extraordinary gastronomic experience or you have no idea what to give to your friends or business partners, you can't go wrong with a personalized gift voucher.
The "Do It Yourself" style steakhouse guarantees both the experience and the quality as the "Hot Stone Steakhouse® is the ambassador of lava rock grilled steak in Hungary."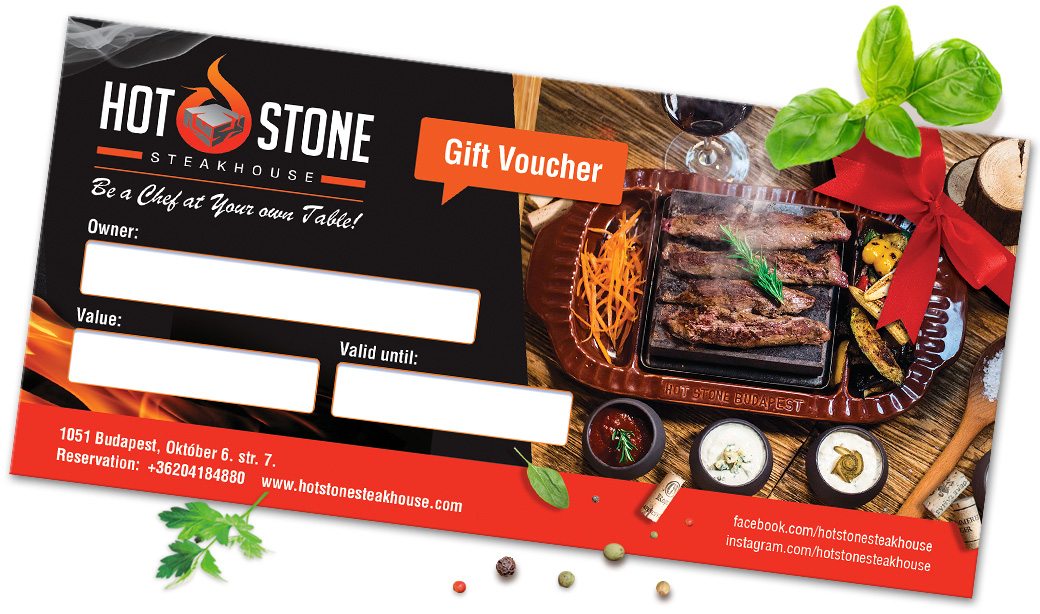 Information
The voucher is nominative and can be topped up with the desired amount, which is valid for three months from the day of the purchase.
The desired amount can be paid in advance in cash in the restaurant, or by bank card or by money transfer.
After we receive the amount, you can collect the voucher in the restaurant or upon request, you can have it posted.
The voucher cannot be exchanged for cash and no amount can be refunded or redeemed in any way.
Before using the voucher, please reserve a table in advance and don't forget your voucher at home.
For more information on the gift voucher, contact us by:
E-mail: hotstonebudapest@gmail.com
Phone: +36 20 418 48 80